Hi Happy Scrappers!
Polly Liana here today with a few tips about how to use your camera's shutter speed settings to create the best summer water photos.  For those of us here in the Northern Hemisphere, 'tis the season for sprinklers, puddles, pools and waves.   No doubt you'll be wanting to capture some of that water fun with your camera this summer.  If your camera has settings for shutter speed then you're in luck– you'll be able to effectively "freeze" those water droplets and splashes, making for a much more interesting photo.
First, some words about shutter speed.  Shutter speed is the amount of time your camera's shutter (kind of like its "eye") is open to "see" an image.  It's how photographers capture all those cool stop motion images like hummingbirds, lightning and bullets going through apples.  On your settings dial, it's usually marked with a "T" (for "time").  If it's open just for a second or more, then it's going to have lots of time to "see" and record lots of movement.  However, if it's open for just a fraction of a second, it will only capture a tiny bit of movement.  The time is measured in seconds and fractions of seconds (like 1/1600 which means 1/1600th of a second–really fast!).   For water photos like sprinklers, puddles and splashes, we want to have the shutter open for a very short amount of time so we can "freeze" the drops and splashes in mid-air.
Here's an example.  I shot these two photos of our wiggly snake sprinkler while it was wiggling and spraying.  For the first one, I set the shutter speed 1/25th of a second.  That might seem ultra fast but when you look at the photo, it's kind a blurry mess.  The wiggles of the sprinklers are blurry and the streams of water are fuzzy and uninteresting.
In this photo, the shutter speed was set to 1/6400th of a second and with that setting I was able to capture the wigglers more clearly, as well as individual drops of water.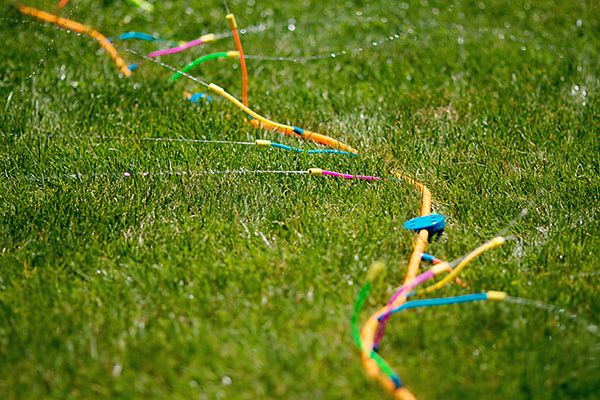 Now, when you only ask the shutter to open for a fraction of a second, you're also affecting how much light it can capture.   This means that your shorter exposures run the risk of being darker.  Fortunately, most of these photos will be out in the bright sunshine so you'll have more available light but you can also compensate for that by raising your ISO (how sensitive your camera's eye–or sensor— is to the light) or decreasing the F stop on your aperture (how much you're asking the sensor to keep in focus).
Shutter speed settings are helpful with all kinds of photos this summer!  Here are some examples, along with their shutter speed settings:
shot at 1/1600th of a second: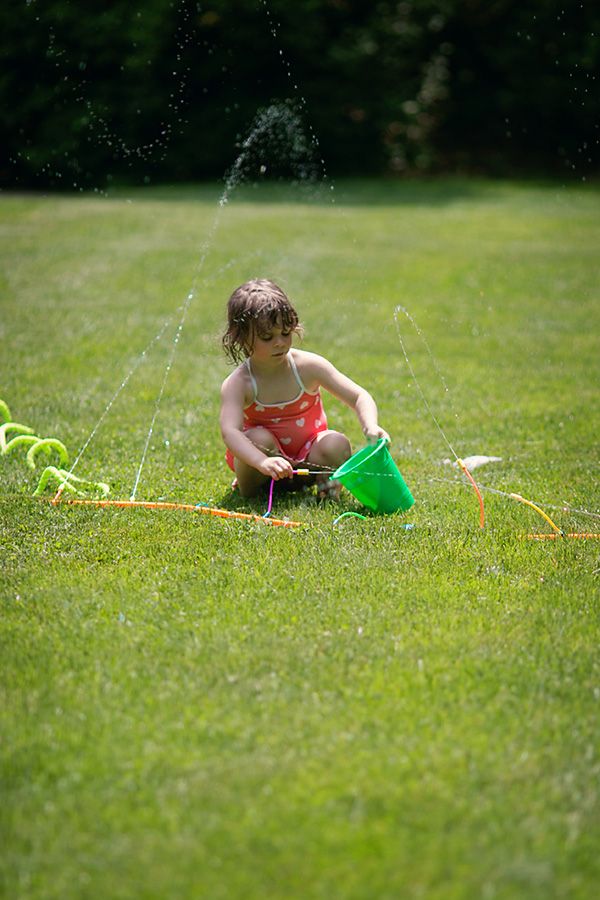 shot at 1/2000th of a second:
It also works well with puddle jumping photos.  These were shot at  1/800th of a second:
There are so many applications to this technique: trampolines, jump ropes, cannonballs, etc.  I hope this bit of info helps you create the very best water photos you can this summer!  Stay cool and enjoy.