Hello everyone!  It's Polly Karen back again to give you a quick overview of all the new challenges for June.  Each month we have 8 brand new challenges that are posted in the forum Challenge Pad on the 1st day of the month. (the BYOC Challenge is posted on the 1st Friday of the month.)  You can use the challenges simply to inspire you to keep creating new layouts OR you can also earn yourself a fabulous coupon for your next shopping trip in the Lilypad Store.  (2 challenges = 10%, 4 challenges = 20% and 6 challenges = 30%).  Those who complete at least 7 challenges will be entered in a drawing for a $50 gift certificate!  Isn't that an awesome prize?!?!  You'll get lots of great memories captured in your scrapbooks AND you could win a fat gift certificate prize!!!  Pretty great, right?!  So let's take a look at this month's new batch of challenges!
---
1.  Inspiration Challenge – Our first challenge for July is the Inspiration Challenge hosted by Em (Justagirl) and she is challenging you to create a layout using chevrons.  Better yet, Em has created a fun Pinterest board called Chevrons with an Attitude to give you lots of fun inspiring ideas of how to add chevrons to your layout.  Here's a fabulous layout Em create with her chevrons:
2.  Style Challenge –  The next challenge for July is the Style Challenge.  Justine (bellbird) is hosting this challenge and wants your layout to use a BIG title that stands out on your page.  Here's a fabulous sample layout created by Justine:
3.  Random Challenge – For the Random Challenge, your host, Lori (lcpereyra) would like you to create a layout using 3 of your favorite kits all mixed together.  Here's a layout that Lori created with 3 of her favorite kits:
4.  Photography Challenge – Ashley (ashleywb) is hosting this month's Photography challenge and would like you to photograph a reflection and then create a layout featuring that photo.  Here's a super fun layout that Ashley created with a reflection photo of her dog:
5.  Journaling Challenge – The Journaling Challenge for July is hosted by Jenn (jk703).  Jenn would like you to create a layout that features journaling about your favorite season.  For Jenn, her favorite season is summer and she created this fabulous layout about why summer is her favorite season:
6.  Template Challenge – Christa (cfile) is hosting the Template Challenge for July.  The challenge is to use the free template supplied by Elif of Sahin Designs and create a layout using it.  Here's a look at the free template followed by a sample that Christa created:
7.  Scraplift Challenge – This month's Scraplift Challenge is hosted by Heather (HeatherB) and she chose to let you pick TWO pages your favorites in you Watched Layouts in the gallery.  Simply go to the Gallery and under "Watched Content" you will see "Watched Layouts".  That's where you can save your favorites.  Pick two of your favorites and then scraplift them into one new great layout.   Heather found a 2 great pages and then combined them into her own version below:
Heather's 1st favorite by Angie (angiekey):
Heather's 2nd favorite by Jenn (jk703):
and Heather's scraplifted version: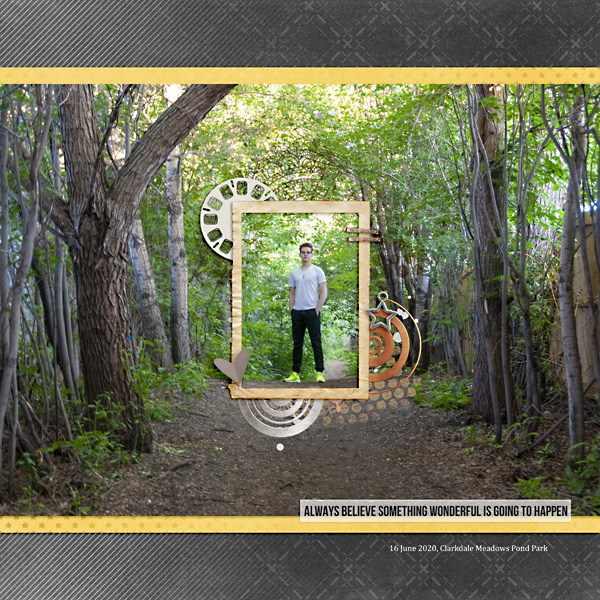 8.  BYOC Challenge – Finally we have the BYOC Challenge.  This challenge will be hosted and posted by Natasha (bcnatty) on Friday, July 3rd when the BYOC Collection for July will be released in the store.  The challenge will be to use 90% of the products on your page from this month's BYOC collection and from at least 3 designers.
---
Challenge Galleries:  (post your pages to these galleries)
---
There you have your at-a-glance overview of this month's brand new batch of challenges.  Once you create your own layouts inspired by these challenges, be sure to post them to the appropriate galleries as listed above.  Then be sure to also post them to the appropriate thread in the challenge forum.  See the thread HERE for further challenge guidelines and see the July Challenge Pad HERE to get started!  Don't forget to post all of your completed layouts in the Challenge Layouts thread so we can be sure to get you the proper coupon at the end of the month.  I'll be back near the end of the month to shine my spotlight on some of the pages created for these challenges!  I can't wait to see what you come up with!  Happy scrapping!