TGIF! Polly Amanda (amandajane) here with my favorite salad recipe. I love this salad and everyone who comes to our house has tried and loved it too. The recipe is by Donna Hay.
roasted haloumi, bacon and tomato salad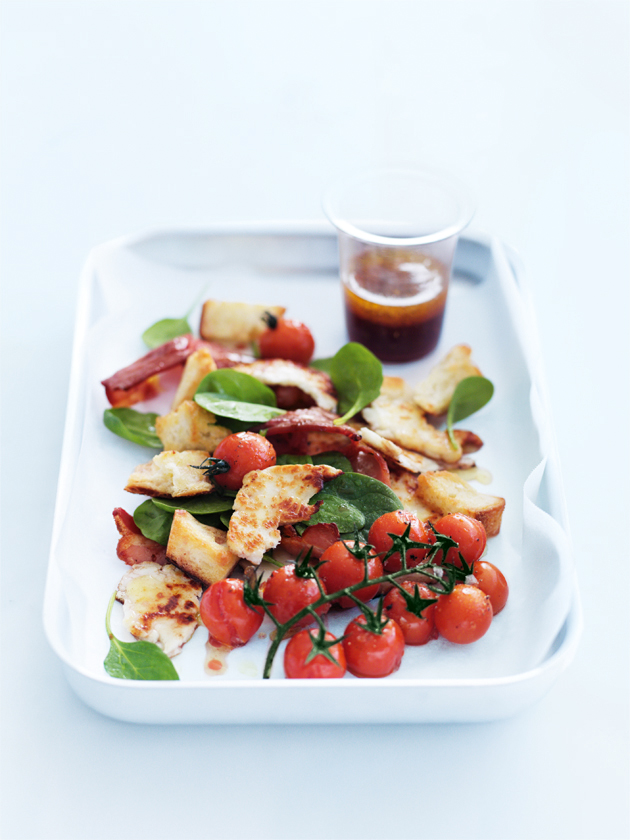 250g haloumi, sliced
 4 rashers bacon, rind removed
 200g sourdough bread, chopped
 2 tablespoons olive oil
 250g truss cherry tomatoes
 80g baby spinach leaves
dressing
 ½ cup (125ml) red wine vinegar
 2 tablespoons olive oil
 1 clove garlic, crushed
  Preheat oven to 220ºC (425ºF). To make the dressing, place the vinegar, oil and garlic in a bowl and stir to combine. Set aside.
Place the haloumi, bacon, bread and olive oil on a baking tray and toss to combine. Roast for 5–6 minutes. Turn the haloumi and add the tomatoes. Roast for a further 6–8 minutes or until the tomatoes are cooked and the croutons are golden. Place in a bowl with the baby spinach and dressing and toss to combine. Serves 4.
I usually use a bit more baby spinach and cut the cherry tomatoes in half because when my kids eat them whole, they spurt everywhere!
So have a great weekend and dont forget to check out all the new goodies in the store today!