There are so many new people and so many regulars that may be wondering how to jump in? This blog post is a small tutorial to help you settle in and be in the know.
First off, I highly recommend subscribing to the newsletter HERE.  You can also subscribe to each and every designer, because they many times have extra saving coupons and FREEbies in their newsletters.  HERE is a list of current designers (but more are coming).  The newsletters come out about 12 hours before the sale, and are filled with happenings for the Lily Pad, from challenges, speed and slow scraps, chats, sales and inspiration for scrapping.
There is also a calendar that is posted the beginning of each month that has some great information on it too. Any and all updates will be in the announcement forum.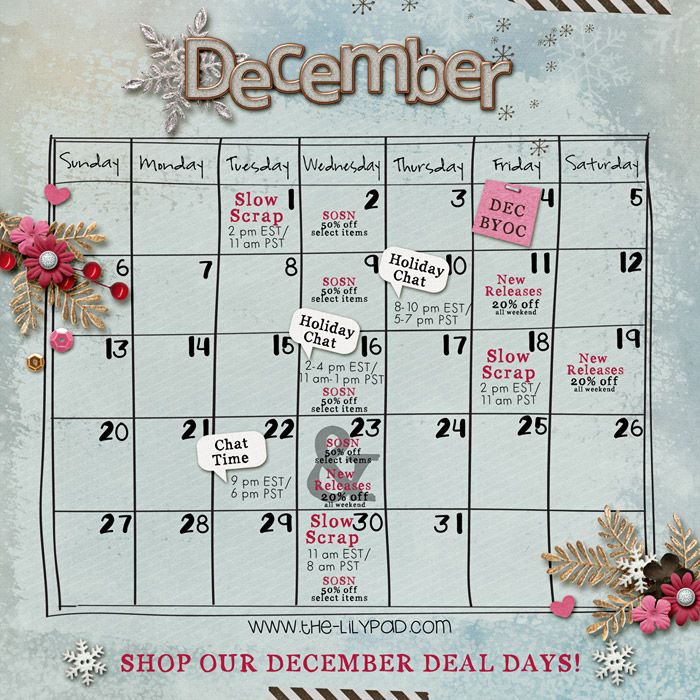 Every month (but January cancelled due to MOC) there are 7 challenges.   They do rotate and have different slants and inspiration, but fall into, White Space, Random, Journaling, Take Two, Scraplift, Template (with a freebie) and the BYOC (Build Your Own Collab) challenge. Doing these, brings a store discount by the end of the next month.  IF you complete all 7, you are also placed in the running for a month guest spot as a POLLY (site CT).  There is more info HERE in the challenge forum.
Here is more on the Build Your Own Collab.  The first Friday of the month, brings the most amazing collection that share the same color palette. The designers are on their own to create their own designs, and amazingly they all go together in ONE huge collaboration.  You have the choice which parts you want to collect.  The more you buy, the more you save. The sale goes thru the following Sunday, and is a great time to stock up.  I so recommend, filling your wish lists, then going back and rebrowsing, because you may miss something.  This way you get the larger percent off.  Here is the ad for this past BYOC  for December:
That is a great savings and you will find yourself going back again and again to the BYOC collections.
The other Fridays, there are NEW releases, also called Froggy Friday . These come out with a 20% sale.  These are all brand spanking new to us designs, and chock full of awesome.  The sale goes thru the weekend too.
Each Wednesday, the SOSN, Something Old, Something New store opens, and Kapowee zowee, can you say 50% off!?!?! Yep, a great time to stock up.  You must shop quickly, as it is a 24 speed sale.
There is a great feature going on now too, called the Project Parade.  You can read more about that HERE. Just visit theDecember Project Parade category and shop for these products at a 20% discount. The items used for the Project Parade are on sale.
Monthly Subscription fun is also going on here at The-Lily Pad.  There are two at present time, along with a new and fun Planner Collection that has started for 2016 (in stores now)
Memory Pockets Monthly subscription includes:
*  Main kit each month, a $14.99 value 35% off all MPM add-ons
*  Presale Access to MPM Add-ons
*  MPM Private Forum Group and Challenges
*  Special tutorials and video for inspiration and product usage
*  Personal interaction with your favorite pocket designers:
Allison Pennington, Amber LaBau, Sahlin Studio, Sara Gleason, Paislee Press and Valorie Wibbens
Mixed Media Monthly subscription includes:
Main collab kit each month, a $14.99 value
50% off all M3 add-ons
Presale access to M3 add-ons
M3 private forum group
Exclusive access to M3 challenges
Special tutorials and video for inspiration and product usage
Personal interaction with your favorite mixed media designers Just Jaimee, Little Butterfly Wings, Lynne-Marie and Quirky Heart, Nancy Rowe-Janitz in the M3 forum
and the newest collection that is happening is the Planner Collection, with a monthly main kit.
The forums are ALWAYS busy, and full of so much energy.  There is also getting to know you daily Pad Patter threads to read and join in on also.  A thriving Project Life community, an Art Journaling and Hybrid groups that love to see new faces too.  There is a Reading, Fit and more sub Pad forums that will fit each and every need.
Oh goodness! I almost forgot the MONTH of Challenges or the Mother of all Challenges as I like to call it, begins on January 1st.  I will be doing a blog to help you prepare for this. Fasten up your scrapbelts, it is a wild ride!
The Lily Pad is so grateful to have you here, and hope you find a home and enjoy it as much as we do.  If you have any questions, start a thread in the forum or PM any Pollywog or even the boss Laura McCandles, because she is the heart of the Pad and you will see her bopping around all the time, as the hostess with the mostest.
~never lose your joy.