Shadows are so way cool, they add so much to a scrapbook page. Even in digital! Shadows are real, and show up when you block any light source with an object.  They add volume in a three-dimensional way behind an object (or element) Without shadows, everything is flat and almost cartoonish.  I read this quote by Franny Billingsly:
Imagine a world without shadows.  You cannot touch a shadow, but a world without them is a hard world, and flat. 
The world would be hard and look almost like a really bad video game! Notice how the poles seem out of place? This is taken at noon, sun high straight above.
Then a misplaced shadow will mess with your mind:
Images appear to float without shadows. Shadows are almost like anchors to the ground.

I can stare at shadows for hours, watching how they change with the sun, or the movement of wind.  It helps me when I do pages, be it memory pages or art journaling. Take a look at some fun shadow images:
Reversed text in the shadow: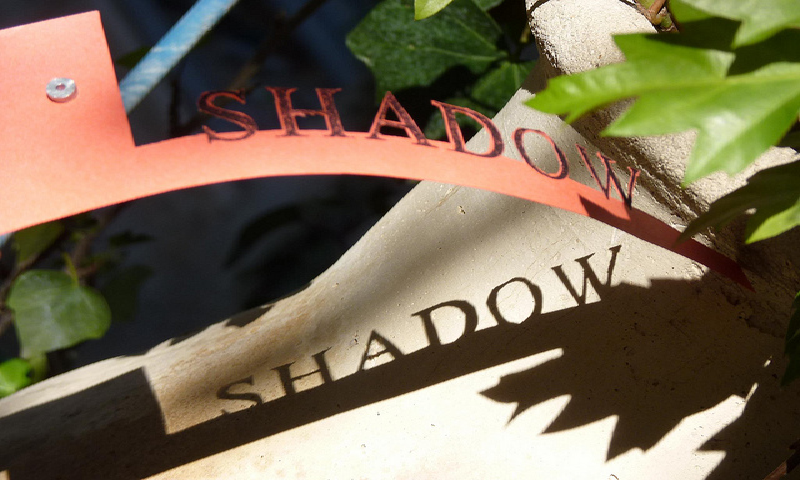 this one is clouds casting shadows on the sea:
and YES, yes, shadows can be in the sky:
and wow to this:
Where you put the shadow in scrapbooking is totally up to you. Find your light source and play!  One of the best tutorials you can find to show the difference on a scrapbooking page is on Sahlin Studios blog.  This is a basic tutorial and will help you begin to make better shadows on your page.
But until then, be aware of the shadows around you. An object can have more than ONE shadow. See that one may be harder edged than another soft one.  Just look around and find the shadows. Live in the shadows, it is good!
~never lose your joy