project mouse (princess edition): elements
Description
Project Mouse (Princess Edition) : Elements
[ a collaboration ] by britt-ish designs and sahlin studio

For this installment, we bring you Project Mouse (Princess Edition): Elements. One thing I've learned is that being a princess isn't just about being pretty- its about celebrating kindness, happiness, grace & charm! Whether your making a magical visit to meet your favorite leading lady, or living a fairytale with your very own princess right at home, these adorable bits and baubles will have you making a layout fit for royalty in a Bibbity-Bobbity-Boo minute! Filled with castles, flowers and tiaras galore, this beautifully elegant collection is sure to delight little and big princesses alike! Use them as decorative elements on their own, or layer them up with journaling, stitching, and your favorite photos. The best part? Everything is sized just right to perfectly tuck into Project Life templates and digital page protectors! Try printing them for use on your hybrid projects, or layer them up on your latest digital layout!

Pocket page scrapbooking is all the rage right now, and for good reason: it is one of the easiest ways to quickly & beautifully create a cohesive project with no fuss! So what happens when you cross the ease of "Pocket Style" scrapbooking with a passion for "The Happiest Place on Earth" ? You get Project Mouse- a collab between Sahlin Studio & Brittish Designs!
Want to learn more about Project Mouse? ♥ Want to snag some coordinating freebies? ♥ Visit
my website
!
Element Pack Includes: 86 unique elements.
Included are: * 2 arrows * 15 text word arts * 2 bows * 1 metal castle charm * 1 chevron castle icon * 2 buttons * 21 word art snipettes * 1 star scatter * 1 paper crown * 3 flags * 5 brads * 1 heart crown charm * 1 paper heart crown seal * 3 silk flowers * 1 metallic bird charm * 1 sequin scatter * 1 tapestry seal * 1 paper rose * 2 mini bracket journaling spots * 2 hexagons * 1 staple * 1 photo turn * 2 hexagon journaling spots * 1 wood veneer wand * 1 bead cluster * 2 brackets * 1 doodled heart icon * 1 ribbon flower * 1 pearl * 1 wood veneer crown * 1 cardboard tag * 1 paper crown seal * 1 wood veneer heart scatter * 4 pieces of washi tape *
Looking for other coordinating products? Check out Project Mouse (Princess Edition) Cards, Alphas, & Papers OR Buy it all in a BUNDLE and Save $$: "Project Mouse: Bundle No. 5 - Princess Edition".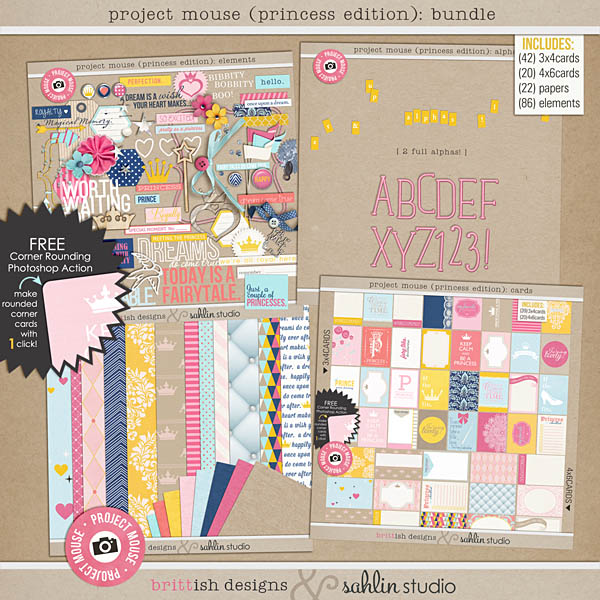 Connect with Sahlin Studio:
blog | facebook | twitter | newsletter
---
Related Products
---