Twinkle Elements
Description
twinkle elements
collab by valorie wibbens + lauren reid
The Night sky is pure magic to me! I can't get enough of those sparkley, twinkling diamonds! I love how the longer you look the more you see....it's mezmerizing!
Element Pack includes 2 arrows, diamond constellation (2 styles), doodled stars (5 sets), 3 epoxy dots, 1 frame, 1 gem, 3 messy glitter, heavens above wordart (2 versions), little star word art (2 versions), look up wordart (2 versions), love you wordart (2 versions), make a wish banner, old stamp, pisces (3 versions), 3 ribbons, scallop doodle (2 versions), wood star set (2 styles), string, 4 tape, 1 ticket, twinkle banner, up in the sky wordart, 5 wordart quote snips, bead spill, bead star, big dipper (4 versions), 3 buttons, card, photo corner, moon doodle, dreamer, eyelet, falling star (3 versions), 2 glitter star sets, meteor shower wordart, full moon (2 versions), my constellation, orion (2 styles), ribbon arrow, saturn doodle, screw, 3 sequins, stamp, 3 star beads, stargazer wordart, 2 stitched stars, the stars wordart, moon and back wordart, twinkle wordart
Coordinates with Twinkle Papers, Twinkle Alphas, Twinkle Journal Cards and Twinkle Zodiacs!
Want it all? Get the Bundle!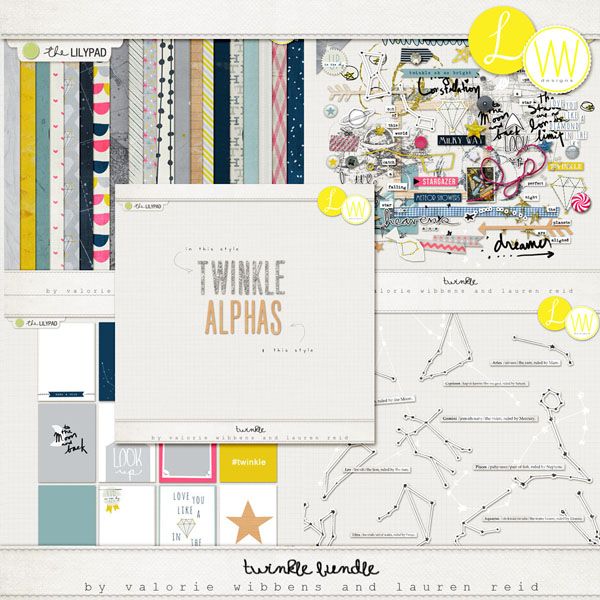 ---