Project Mouse (Fantasy): Word Art
Description
Project Mouse FANTASY: Word Art
[ a collaboration ] by britt-ish designs and sahlin studio


Pocket page scrapbooking is all the rage right now, and for good reason: it is one of the easiest ways to quickly & beautifully create a cohesive project with no fuss! So what happens when you cross the ease of "Pocket Style" scrapbooking with a passion for "The Happiest Place on Earth" ? You get Project Mouse- a collab between Sahlin Studio & Brittish Designs!

For this installment, we bring you Project Mouse (Fantasy): Word Art. Remember that feeling you had as a kid- you know, the one where anything was possible? If you're a tiny tot, or even a big kid all grown up, there's nothing more precious than being open to all the wonders of your imagination. Whether it's soaring over the Big Top, taking a tipsy twirl in a teacup, or sharing a meal with your favorite princess, these adorable journaling cards will help you celebrate all your sweetest flights of fancy. Perfect for everything from circus visits & bedtime stories, to magical vacations, this whimsical collection is ready to print out for use on hybrid projects, or use to be used as in on your favorite digi pages. The best part? All cards are perfectly sized to tuck into Project Life templates and page protectors! For those of you who prefer rounded edges, there is a BONUS corner rounder action for Photo Shop included.

Want to learn more about Project Mouse? ♥ ♥ Visit my website!
Word Art Pack Includes: 24 Word Arts (including 3 recolored versions)
Looking for other Project Mouse products?
Click here for Project Mouse (Fantasy) Elements, Word Snips, Papers & Word Art
OR Buy it all in a BUNDLE and Save $$: "Project Mouse: Bundle- Fantasy Edition".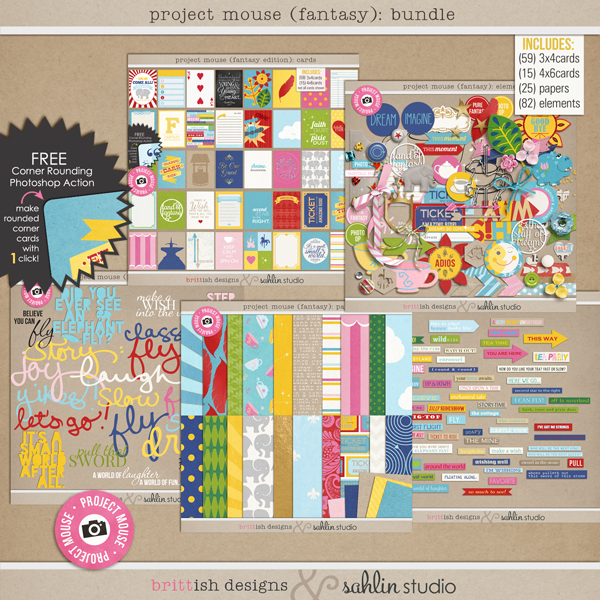 Connect with Sahlin Studio:
blog | facebook | twitter | newsletter
---
Related Products
---