Greetings, Happy Scrappers!
Happy Last Day of Spring(!)  Hope you're doing something fun outside today to celebrate the start of summer tomorrow.  With all this lovely weather coming our way, you might be needing some motivation to get your work done instead of sitting around in a hammock or sipping something cool beside a pool.  Well, I've got just the right inspiration for you.  Today, I'm going to give you some tips about how to create your own motivational images and posters.  Here's how:
1. First, choose a great quote that gets you fired up (or one that makes you smile or calms you down).  Here are some of my favorite sources for quotes:
For my first poster, I chose a quote that I fell in love with a few weeks ago: "The bad news: There is no key to happiness.  The good news: It isn't locked."
2. Find or create an image that fits the quote.  Make sure that there is enough space within the image to present the quote so it can be easily read, or choose an image that presents a good background for the quote. For my happiness quote, I envisioned someone holding a key to happiness.  I thought a pair of children's hands might be a nice fit for the image so I used my daughter as a model.   At a local craft shop, I picked up an antique-looking key, a matching chain and a set of ceramic disk beads in various colors.  I used a sharpie to draw a happy face on a yellow bead and attached it to the key.  I took my daughter outside over our grass and had her extend her palms and laid the key in her hands so all the elements were easily seen.  Then, I set my aperture at 1.8 so the grass would be nicely blurred.  That way, I could add the text over the grass part.  I composed the shot so there would be plenty of space to add the text.
3. When you've gotten the image the way you want it, add the text, making sure you emphasize the important parts of the quote using changes in size, color and style. In Photoshop, I used Heather Joyce's fabulous font "The Typewriter" to add the words from the quote.  I love this font because it's handwritten but has the feel of a typewriter which felt perfect for this quote.  I experimented with color and size for a while until I got it just the way I liked it.
4. Check spelling and use this trick to keep the letters from "floating" above the image…
Here's a link to AnneofAlamo's fabulous tutorial that will change your life when it comes to using text and paint on your layouts and images.  Check it out!
Here are two other images I've been working on the past few days.  First, my very favorite quote of all time, against an image I took of spring ferns using Heather Joyce's "The Dirty Dame" font.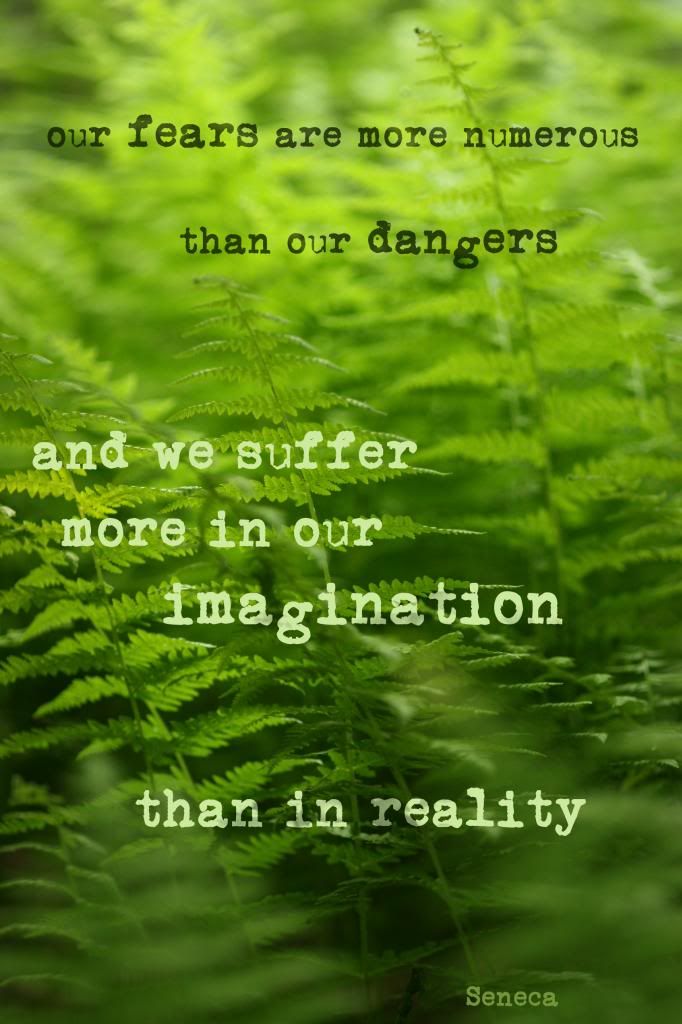 And second, one of my very favorite photos of my daughter, along with a great matching quote from Mae Went and Heather Joyces "The Outside the Box" font.
Hope I've gotten you motivated to, well, get motivated.  Enjoy your weekend, friends!