Hello everyone!  It's Polly Karen here bringing you the monthly overview of the 7 new challenges for August.
---
As a reminder, based on our percentage system, you can earn three levels of coupons for the store just by participating in our monthly challenges. In addition to the coupon, if you complete all 7 challenges within the month of August, you will be entered in a drawing to win a one month guest spot on the Lilypad Creative Team!  The discounts available are as follows:  2 challenges = 10% off, 4 challenges = 20% off and 6 challenges = 30% off.  Now let's take a look at the new challenges:  
---
 1.  Journaling Challenge – Heather (talktoheather) is hosting August's journaling challenge.  Heather wants you to create a layout and include journaling about a wish you have.  Here is a fun page Heather created about one of her wishes:
---
2.  White Space Challenge –  This month's White Space Challenge is hosted by Renee (renee82).  All you have to do is create a layout with at least 50% white space.  You can use the KISS rule… Keep It Simple Sweetheart.  Here is a fabulous example of a white space layout created by Renee:
---
3.  Random Challenge – The Random Challenge for August is hosted by Heather (HeatherB) and she is kicking us outdoors!  For her challenge you must scrap about something outdoors!  Here is a stunning page that she created to get you inspired:
---
4.  All About You Challenge – Ashley (ashleywb) is hosting the All About You Challenge for August. (that's a lot of A's!!)  Ashley would like you to scrap about a "first" for yourself.  Here is a layout she created about a first 5K race (way to go Ashley!):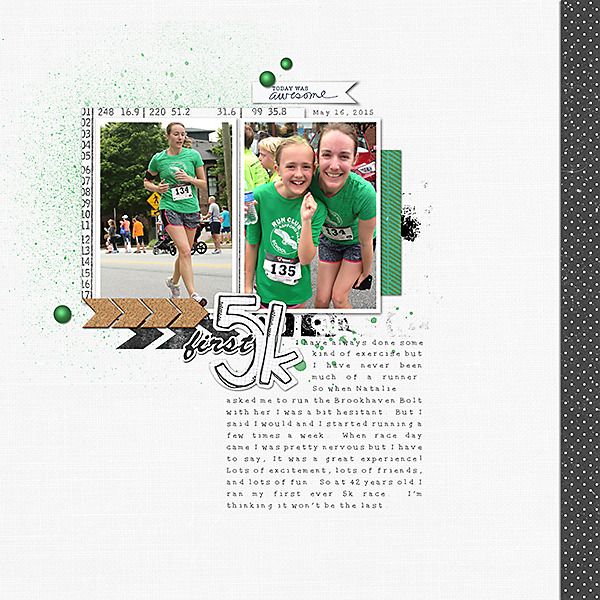 ---
5.  Take Two Challenge – Julie (mrs2a50) is back to hosting the Take Two Challenge for this month.  She's mixing this challenge up a little bit to make it easier (thanks for all the feedback) and more fun to revisit an older layout.  This time you need to find one of your own older layouts and then use that layout to scrap that style/design again. (with new photos)  Here is a layout Julie chose from last year to re-scrap, followed by her new Take Two version:
---
6.  Template Challenge – Amanda (MandaKay) is hosting the August template challenge.  For this challenge all you have to do is download the free template supplied by Amy Martin and then use it to scrap a layout.  Click on the image below to get the free template.  Below that is a fun layout scrapped by Amanda with the template:
---
7.  BYOC Challenge – Last, but certainly not least is the BYOC Challenge.  August's BYOC Challenge will be posted to the forum Friday, August 7th when all the new BYOC Products for August will be released in the store.  This challenge, hosted by Amanda (gracielou), is to use 90% of the products on your page from the current BYOC collection and from at least 3 designers.  
---
 Challenge Galleries:  (post your pages to these galleries)
---
There you have your at-a-glance look at all of the new challenges for August.  Now you can go create your own layouts inspired by these challenges and then post them to the appropriate galleries as listed above.  Then be sure to also post them to the appropriate thread in the challenge forum.  See the thread HERE for further challenge guidelines and see the August Challenge Pad HERE to get started!  Don't forget to post all of your completed layouts in the Challenge Layouts thread so we can be sure to get you the proper coupon at the end of the month.  I'll be back near the end of the month to shine the spotlight on some of the pages created for these challenges!  I can't wait to see what you come up with!  Happy scrapping!