Hooray!  It's June and therefore (in my book) officially summertime, but the beginning of a new month also means it's time for 
new challenges
for the month too.  We have 7 all new challenges to spark your creativity and not only will they inspire you, you can earn up to a 30% off coupon (2 challenges = 10% off, 4 challenges = 20% off and 6 challenges = 30% off) and if you complete all 7 challenges you could win a guest spot on the Creative Team.    Here are the new challenges:
1.  BYOC Challenge
– This month we are also lucky enough to release the BYOC goodies on the first of the month too!  Angie (Angie4b1g) is hosting the BYOC challenge this month.  For this challenge, you must use items from at least 3 designers and your page must have at least 90% BYOC items.  Your LO can be posted to the 
BYOC Challenge Gallery.
 Here is a sample page from Angie:
2.  One Word Challenge –
Amanda (gracielou) is hosting the One Word Challenge this month.  She chose the word begin(ning).  Your completed pages should be posted in the
One Word Challenge Gallery
.  Here is a gorgeous sample LO from Amanda (congratulations on your new bundle of joy!):
3.  Template Challenge –
Renee (renee82) is your host for this month's template challenge.  Amy Martin supplied us with another fabulous and free template for this month's challenge.  Your pages using this template should be posted in the
Template Challenge Gallery
.  Here is the template and Renee's sample page using it:
4.  Product Challenge –
This month's Product Challenge is hosted by Heather (HeatherB) and she picked plants for the product to use this month.  She has lots of suggestions of plant type products listed in the forum to get you started too.  Upload your finished pages to the
Product Challenge Gallery
.  Here is a sample page from Heather:
5.  Scraplift Challenge
– Dana is hosting our scraplift challenge this month and she chose our own Carolee for everyone to scraplift.  Carolee's gorgeous gallery can be found
HERE
.  Upload your scraplifted pages to the
Scraplift Challenge Gallery
.
6.  Journaling Challenge
– Amanda (MandaKay) is hosting this month's Journaling Challenge.  June 29th is Camera Day, so Amanda wants you to do a page about your camera.  Post your completed pages to the
Journaling Challenge Gallery
.  Here is a sample page made by Amanda and her camera:
7.  Random Challenge
– Heather (talktoheather) is hosting this month's Random Challenge.  Her challenge to you is to create a double page spread instead of just one single page LO.  Your finished pages should be posted in the
Random Challenge Gallery
.  Here's is a sample two page spread by Heather: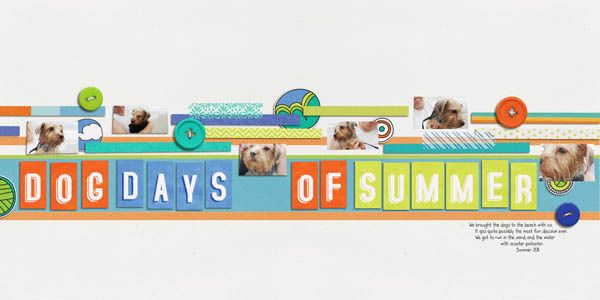 You have until June 30th to complete these challenges.  There are a few notes to remember while doing pages for these challenges. Your pages must contain at least 75% TLP products and you must do a unique page for each challenge.  Do not combine one page for two challenges.  Once you complete your page, be sure to post it in the appropriate gallery and then back in the individual challenge thread too so we can leave you some love!  We also ask that you post all of your complete challenge pages in the 
THIS THREAD
 so we make sure to get you the correct coupon at the end of the month.  If you have any other questions about the challenges, see the Challenge Guidelines thread 
HERE!
 Have fun! I can't wait to see what everyone creates this month!   I'll be back in a few weeks with another post on my favorite pages created for the challenges so far.  Maybe your page will be here on the blog.  Stay tuned.
Trackback from your site.