My husband playfully refers to me as "The Documentor" because in our house, if it happened, chances are I took at least one photo of it.   Today I'm going to give you some tips on how to create a collage of a
progression
of something, from start to finish.  As an example, I'll use an event that photographers have lovingly termed the "Cake Smash."  It's usually done with a child who is turning one year old.  One-year-olds seem to be
perfect
for this activity: the child hasn't really had a lot of cake before, they're in a celebratory mood, they tend to like smashing things and they're usually not too mobile so you don't get frosting everywhere.  Here is an example of my daughter's cake smash: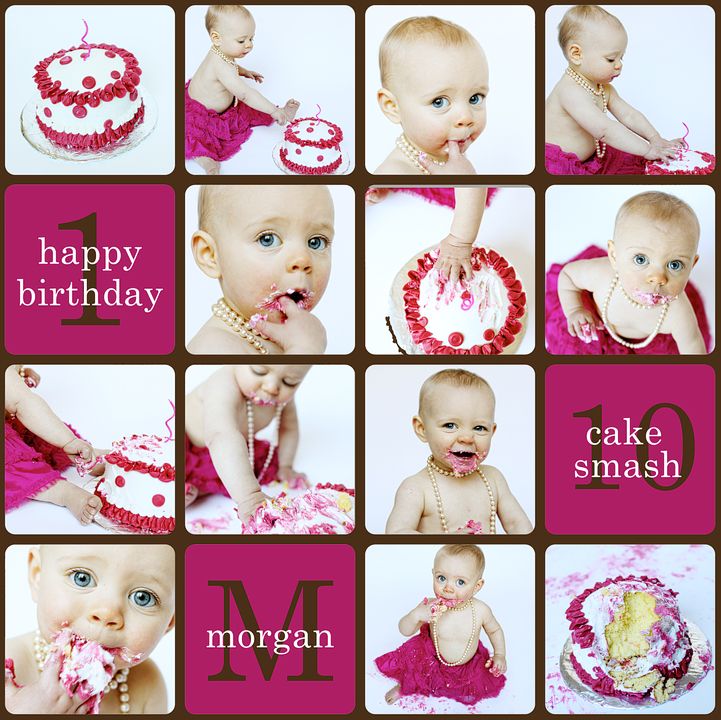 OK, here's what you need to orchestrate a successful cake smash: 1. A neutral background (so the end photos have a uniform look when they're presented next to each other).  I prefer white but there are lots of other great examples out there.  I use seamless paper but you can also use a shower curtain.  Some people put a sheet of plexiglas under the baby to protect the background but I don't feel like cleaning greasy frosting off plexiglas every time I do this.  I just cut the messy part of the paper off after the session. 2. A small cake (if you use a white background, it's usually helpful if the cake is not predominately white because it blends into the background) 3. A one-year-old cutie. 
  In my sessions, girls often wear a tutu and pearls and boys wear jeans and a tie.  Frosting is sometimes tricky to clean so make sure the clothing is not something of sentimental value. 4.
Lots
of wipes and/or towels for clean up.  Also, you might want to wear an apron and short sleeves.  No, really, it gets really sticky
really
fast. First, take a photo of the cake by itself, in its pristine condition.  Then, take a photo of the child by him or herself.  Now comes the fun: sit the child down with legs out and put the cake between the child's legs.   Some children are surprisingly apprehensive about diving right in.   Think about it: they've always been taught not to put their fingers all over fancy-looking things and now we're encouraging them to do it
and
taking photos for evidence!  Who
wouldn't
be hesitant?  Sometimes it helps to give them a taste and/or hide a few familiar snacks in the frosting so they are encouraged to try it. Then, just snap away!  It's so fun to watch how they slowly figure out what's going on and end up grabbing whole mouthfuls.   In order to get the full potential of the collage you make later, make sure your photos are taken from a bit of a distance, leaving plenty of background in the photo.  You can always crop tightly later but it's hard to "zoom out" after you've taken the photo. In the end, take a photo of the "after" version of the cake.  Then, bust out the wipes and change the cherub into some non-sticky clothes.  A bath is sometimes necessary if they've really gone to town. (A hint: If you're doing this cake smash for someone else, I highly recommend offering to "clean up" the leftover cake after they leave so you can devour any untouched remnants.  Yuuuuummmmm.) When the mess has been cleaned up and the cake has been
eaten
thrown away, it's time to create the collage.  I highly recommend using a template that has been specifically-designed for this type of collage and we've got several great ones here at the Lilypad.
Gina Miller has designed a variety of great storyboard templates for cake smashes and other photography projects:
And Valorie Wibbens' pocket templates can be easily adapted for photo collages as well:
If you're not into the super-uniform look or want to have room for other elements, have a peek at the
templates
section of the store.  You're bound to find something there that will suit your tastes. This progression is not limited to the destruction of desserts.  In fact, you can take photos of all different kinds of progressions.  First steps, gardens growing, first haircuts, riding a bike without training wheels, changing heights of children (my friend takes a photo of her family every Mother's Day and her kids are now taller than she is!). I hope this tutorial has given you something to chew on.  Now if you'll excuse me… there is a smashed up, half-eaten carrot cake in the other room with my name all over it.
Trackback from your site.